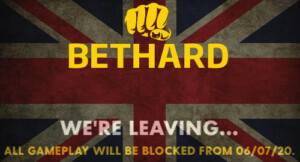 Bethard ending UK market access in July
Bethard has announced that they will be stepping away from the UK market come the 6th July. This has come around as the company becomes the biggest name casualty in the UK sector which has been rocked and changed due to the CDOVID-19 crisis. However, one of the main reasons given for Bethard making a dash for the exit door stems from increasingly tightening restrictions in the UK online casino gaming market.
UK customers for Bethard will have received an e-mail explaining that the company will be stepping away from the UK scene. New accounts from the UK were ceased entry on the 16th June, and the UK website for the company will be shut down come the 6th July. If you happen to use Bethard, now might be the time to look at getting any winnings out of your account prior to the shutdown of their UK operation.
Please check free slots with bonus spins.
However, you will have until the 10th August to get your money out of the account, so you have plenty of time to make the move. The company, based in Malta, received a UKGC gambling license two years ago but has decided to move away from the UK market.
With stricter regulation and tax rises causing a lot of consternation in the market, expect more to follow in the near future if the regulatory stand-off continues. As the UK Government looks to try and end what is seen as appeasement of the industry, more pushback could come in the form of other companies looking for less complex opportunities across Europe and beyond.